The Occupational Safety & Health Administration (OSHA) reports that there were 3,945 worker fatalities in private industry in 2012. Of that number, 775 or 19.6% were in construction. There are many causes of an accident on a construction site. The top causes of construction worker deaths on the job were falls, followed by struck by object, electrocution, and caught-in/between. These "Fatal Four" were responsible for nearly three out of five of the construction worker deaths.
Many accidents may be attributed to some type of negligence and may involve unsafe work site conditions, improper use of tools and-or equipment, and lack of protective safeguards.
Falls. Falls accounted for 278 out of 775 (36%) total deaths in construction in 2012, according to OSHA. An injury of this type may occur when a worker near an open-sided floor steps backwards or sideways without looking. Falling hazards also commonly occur on stairwells with no guardrails. Since high elevations often play a role in these falls, the results can be catastrophic to workers who sustain serious injuries. The main cause of death in construction occurs where inadequate or no fall protection is provided.
Struck by object. Seventy-eight construction workers died as a result of being struck by an object in 2012. A number of these deaths may have been prevented if the workers had undergone proper training and used equipment and machinery properly. Employees must remember to use parking brakes on nonmoving vehicles, reverse vehicle alarms, tool guards, personal protection equipment, debris nets, catch platforms and more.
Electrocutions. In 2012, 66 workers (9%) were seriously injured or killed by electrocution. Electrocution is when a person, tool or piece of equipment comes into contact with power lines or exposed electrical sources. Sometimes, these types of accident occur because workers are simply unaware of all energized power sources, from overhead and underground power lines to damaged receptacles and connectors. As an example, a construction worker carrying a metal ladder may strike an overhead power line.
Caught-in/between. Although it seems obvious to never stand between a piece of heavy equipment and an immovable object, sometimes workers concentrating on their jobs find themselves in unexpected danger. Caught in/between accidents are when a worker's body part is caught, crushed, squeezed, compressed or pinched between two or more objects. Examples include cave-ins or collapsing materials, body parts caught in the moving parts of an unguarded piece of machinery, equipment rollovers and getting pinned between fixed objects, like a wall, and piece of heavy equipment.
Slip and falls. These are among the most common accidents on a construction site. These accidents may be linked to unsafe conditions conditions including uncovered holes or trenches and exposed stakes.
Ladder accidents. This is one of the leading causes of injury and long-term disability. Most ladder accidents, including falls, happen because workers use the wrong type of ladder for their job or they set up the ladder improperly, perhaps on a slippery or unstable surface, and the ladder unexpectedly shifts or slips. Workers also may experience a foot slip, or they may lose their balance, or overreach. Ladders may also be defective or improperly maintained.
Scaffolding accidents. Despite strict regulations, scaffolding accidents occur. In a Bureau of Labor and Statistics (BLS) study, 72% of workers injured in scaffold accidents attributed the accident either to the planking or support giving way, or to the employee slipping or being struck by a falling object. In a general sense, most scaffolding accidents are caused by improper construction or negligent maintenance.
Power tool and machinery accidents. Power tool and machinery injuries may occur for reasons that include mechanical defects, electrical failure, inadequate training and failure or lack of proper safety equipment. A significant number of injuries are caused by the use of power tools and large equipment.
Musculoskeletal disorders. A leading cause of injuries, disability claims and medical costs in construction are sprains and strains of the muscles. Construction work can also cause injuries to the joints, bones, and nerves. These injuries often stem from job demands that constantly wear and tear on the body.
Vehicle Accidents. Dangerous construction site vehicles include forklifts, graders, backhoes and dump trucks. A common forklift accident occurs when the vehicle is turned or maneuvered with the load raised. Large trucks all too often back up and hit a pedestrian. Another hazard on construction sites is falling from a vehicle.
Ways to Reduce Accidents in the Construction Site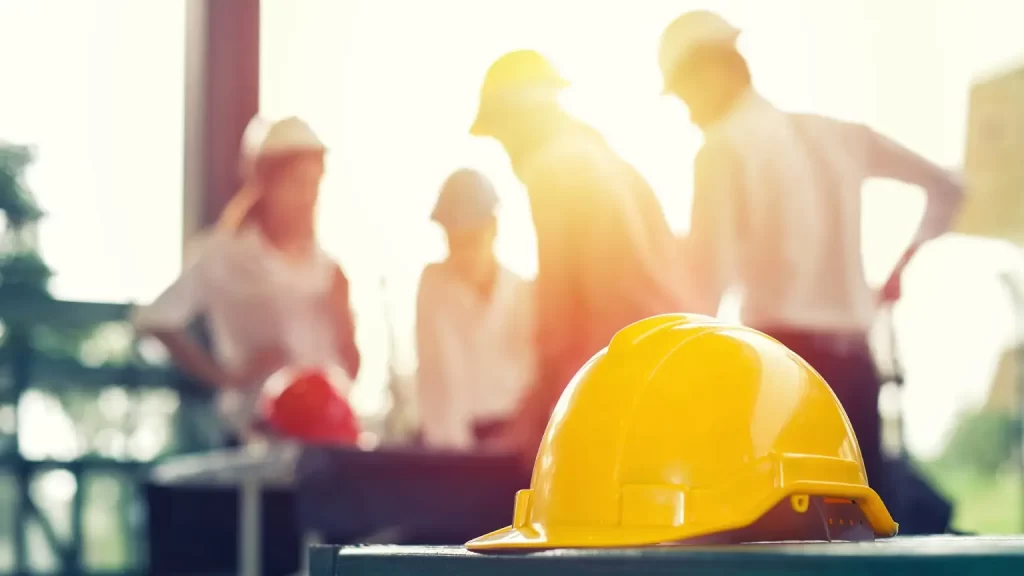 1.Assess Risks: All construction sites must be inspected before work begins. The company should thoroughly examine any possible hazards and dangers. By identifying the specific threats and their potential capacity to cause accidents, you can develop the appropriate safety plan. It can save construction projects a great deal when it comes to lives and even operating and legal costs.
2. Invest on High-Quality of Protective Gear: Stay on top of the Occupational Safety and Health Administration's (OSHA) requirements for PPE. Remember that personal protective equipment (PPE) is fundamental on a construction site for safety. Maintain a safe working environment on an active construction site by letting workers wear and use the latest and highest-quality gear and protective clothing.
Before, a regular hard hat, reflective vest, and hard toe boots were all that was required. However, the industry has become more vigilant about the high number of accidents on construction sites.3. Have A Meeting About Safety 
3. Have a Meeting about Safety: Several safety measures need to be explained to employees depending on their designations and job site. Risks change as a project advances. A project manager or team leader is responsible for ensuring everyone on the job site understands safety regulations and is provided with the necessary instruction. Keeping everyone on the same page is effective through holding daily meetings.4. Maintain Equipment Regularly
4. Maintain Equipment Regularly: Today's construction sites heavily rely on technologically advanced machinery. They require significant downtime maintenance. The majority of site accidents often occur because of heavy machinery. The more systematically you maintain these massive machines, the greater your chances are of avoiding severe malfunctions, which can lead to damage and injuries.
5. Comply to all Safety Regulations: Before the OSHA standard, there had been no set safe distance for employees working on roof edges. To prevent accidents, OSHA created a rule about it, which mandates people to maintain a distance of six feet away from these edges. This means that whoever works below the 6-feet requirement will need to wear conventional fall protection systems.
6. Use Effective Signages for Dangerous Areas: A prominent label should be put on wires and high voltage areas. And when no one uses power, the electricity must be turned off. There should be warning tapes and neon signs with a clear boundary around the area. Do this to prevent access into sections where there is a risk of getting hit with falling debris or other dangers.
7. Maintain a Safety Culture: A culture of safety is predominantly a term used in the healthcare industry wherein lives are always at stake. It can also be applied in the construction industry as well. It is a must that you cultivate it in your workplace as it isn't an option but a requirement. In enriching a culture based on safety, your workers will have a more positive attitude towards keeping the workplace free of injuries. They may become accustomed to doing frequent functional risk assessments themselves. 
8. Secure First Aid Kit: You have to be prepared for accidents in your construction site by always having first aid kits available. Law requires employers to provide employees with a simple first aid kit containing bare essentials. However, when it comes to ensuring the safety of your workers, it will help to invest more than just the bare essentials.
You can get more training from RCL Safety Centre thru https: www.safetycentre.ng/training_register
At RCL Safety Centre this training is also available in different Nigerian languages like PIDGIN,YORUBA,HAUSA AND IGBO
Our company (RCL Safety Centre) is an indigenous company dedicated to Health, Safety and Environment Training and Services.
We are technical partners of the National Industrial Safety Council of Nigeria (NISCN) as well as approved training partners of most major International Occupational Safety and Health organizations like NEBOSH, and corporate members of ISPON (Institute of Safety Professionals of Nigeria) with thousands of personnel trained in various areas till date.
For more information visit our website: www.safetycentre.ng
Email: sale@safetycentre.ng or mma@safetycentre.ng
Contact us on: 08099700070, 09057666623 or 08164363532