Safety tips for rainy season can be a major concern for many people as excessive rain can ruin normal life patterns during monsoon. Rain is a blessing from the Almighty as it is a harbinger of good fortune and happiness. Everyone loves rain as it brings cool weather during the scorching heat. Moreover, rain is essential to balance the groundwater levels and other major water resources.
However, excessive rains, especially during the rainy season, are not desirable for many as they cause several problems. Excessive rain often results in power breakdowns, floods, waterlogged streets, landslides, and many other problems. Additionally, people living in slums or areas with no proper drainage systems are forced to migrate to other places. Therefore, it is important to consider several safety measures before the start of the rainy season.
Some Handy Road Safety Tips During Rainy Season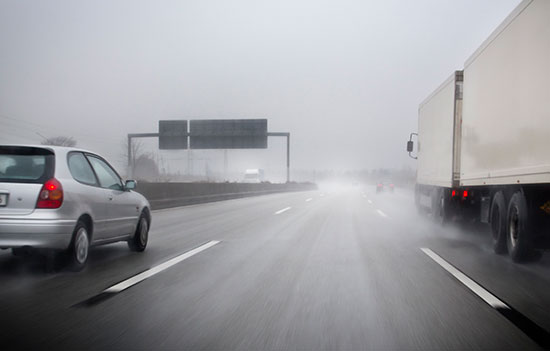 Get Your Vehicles Checked : It's of utmost importance to make sure your car is in perfect condition before you head out in this weather. Even the smallest of mechanical fault can cause the biggest of hindrances to your road safety during the rainy season. You don't want to be stuck on a marshy road changing tires while it's raining cats and dogs. You must ensure the tires, windshield wipers, headlights, and brakes of your car of motorbike are working perfectly. In addition, defog your windows to maximize visibility. Products like Rain-X Anti Fog can do the job for you!
Get Regular Weather Update: Rain is unpredictable, especially in the rainy season. One moment it'll be sunny and the next it'll start pouring like crazy. So, always make sure you tune in to the weather forecast before you get into your car. And this isn't just for your present location, but also for the destination. Stay updated on the weather predictions of the place you're heading to. If the forecast suggests a spell of rain, adjust your plans in accordance.
Time Your Journey: Timing matters! Know which time of the day is safe. Know the distance between your location and the destination, and how much time it would take you to cover it at your intended driving speed. You must understand that rain will automatically slow you down, and it'll take more time than normal to drive on those slippery roads and get through traffic. So leave earlier than you thought you should. That way, you can also make sure you don't end up driving in the night, which is dangerous in the monsoon season. Timing your trip well is possibly the most important of road safety tips that we can give you!
Fuel-up Before Setting Off: Imagine being stuck in a remote area with no fuel in your vehicle and no refill station in sight while it's pouring. Scary, isn't it? Make sure you fill up your vehicle to its maximum capacity so that your car doesn't give up on you in the middle of the road.
Drive Slowly: The roads are marshy and slippery. Visibility is less. It's not the ideal condition for a Fast And Furious road trip. Keep the urge to race and overtake for another time. The established road safety tips during rainy season for many cities especially ask drivers to drive slow so that they can clearly see where they're going and also not jeopardize the safety of other people on the roads. Besides, wet roads can cause tires to lose traction and skid, and the driver can lose control of the vehicle.
Keep the Lights on: Yes, even during the day! Visibility is of utmost importance when you're driving in the rain, especially in the hills. You need to be able to see clearly and be seen clearly. Keeping the lights on will also help others driving around you identify your vehicle and maintain a safe distance. Just make sure you don't flash a high beam straight onto an oncoming vehicle as this may blind the driver temporarily and cause an accident.
Maintain a Minimum Safety Distance: Give other vehicles (and yourself) plenty of room to see ahead and avoid a collision. Since visibility is less and the roads are wet, you can't just ram the brakes and pull up in an instant assuming the cars following you will do the same. Besides, the driver in front of you may not have read the road safety tips during rainy season and taken the right precautions for driving in monsoon!
Avoid Off-roading: Going off the beaten track may be fun in the summer season, but it'll only reward you with trouble in monsoon, especially in the hills. Just keep the following monsoon road safety tips in mind when driving in the mountains:
Stay on the well-paved road as much as possible. Avoid driving on loose earth, muddy roads, and patches.
If you do get stuck in a muddy patch, don't use brakes or your car will be pushed further into the slush.
Just shift to a higher gear and try to drive out of it.
Keep the steering wheel steady or you can hydroplane and lose control of the vehicle.
Steer clear of puddles and muck as you do not know how deep a pothole it may be hiding.
9. Take a Break if the Weather Worsen: It is not advised to drive in a storm or during heavy rain when you can't see clearly or control your vehicle properly. In such times, it is best to just grab a good spot on the side of the road and pull over. However, do make sure that your headlights and tail lights are on so that passers-by can see your car and avoid a collision.
10. Carry an Emergency Kit: What would you do if you are stuck on the road in the dead of the night? Make sure you have the following things with you:
Flashlight (preferably waterproof)
Umbrella or raincoat (or both)
Extra clothes
Mosquito repellent
Sturdy shoes
Power bank
You can get more training from RCL Safety Centre thru https: www.safetycentre.ng/training_register
At RCL Safety Centre this training is also available in different Nigerian languages like PIDGIN,YORUBA,HAUSA AND IGBO
Our company (RCL Safety Centre) is an indigenous company dedicated to Health, Safety and Environment Training and Services.
We are technical partners of the National Industrial Safety Council of Nigeria (NISCN) as well as approved training partners of most major International Occupational Safety and Health organizations like NEBOSH, and corporate members of ISPON (Institute of Safety Professionals of Nigeria) with thousands of personnel trained in various areas till date.
For more information visit our website: www.safetycentre.ng
Email: sale@safetycentre.ng or mma@safetycentre.ng
Contact us on: 08099700070, 09057666623 or 08164363532