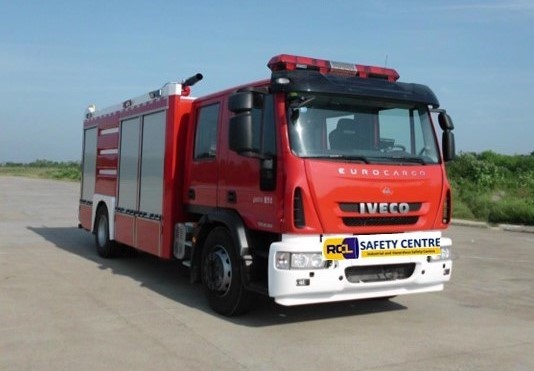 The rich history of a fire engine's color dates back to the 1900s; discover why fire trucks are red, and if it's truly the best color for your rig
There are many theories about why fire trucks are red.
There are many theories about why fire trucks are red.
Just kidding. Google it – you'll thank me later for the laugh.
On a more serious note, there are many theories about why fire trucks are red. But, of course, some departments don't follow the norm. There are yellow, blue, purple, pink and even black fire trucks running calls all around the country.
WHY FIRE TRUCKS ARE RED
Here's a history lesson for you.
Some believe fire trucks were first painted red because of early cars.
In the 1900s, Henry Ford suggested the color black for his Model T Ford's due to the cheap cost and durability of the paint.
With so many black vehicles, it is said that fire brigades wanted the rigs to stand out. Another theory suggests that fire departments wanted their trucks to feature the most expensive color — which was red at the time.
However, scientifically, certain colors can cause havoc with a person's vision.
THE SCIENCE OF COLOR
A study released in 2004 by Lt. James D. Wells Jr., on behalf of the Florida Highway Patrol, discusses whether red or blue emergency vehicle lights are easier to see on the road. In short, the study found that red lights were easier to see during the day and more difficult at night.
If we associate Wells' findings with the desired color of fire trucks, then why are we still painting them fire engine red?
In England, research conducted by the Lanchester College of Technology and Coventry Fire Brigade in 1965 concluded that the color lime or bright yellow was actually easier to see in a variation of lighting — including at night. Research findings also suggested that the color yellow was more visible during inclement weather.
In response, most U.K. fire service vehicles started including retroreflective yellow markings on their rigs.
In fact, Stephen Solomon, a New York optometrist, and James King promoted the use of "lime yellow" over the traditional red for fire apparatus in their four-year study published in 1995. Solomon and King concluded that red is a poorly detected color. They analyzed accident data from the Dallas Fire Department and found that crash-related incidents involving apparatus were three times greater for red or red and white fire trucks compared to lime-yellow and white trucks.
Another study by Solomon also concluded that lime-yellow fire trucks were half as likely to be involved in intersection accidents.
As a result, in the 1970s and early 1980s, the Dallas Fire Department began replacing their red apparatus with lime-yellow. Later on, the department bought red apparatus with white cabs.
WHY PAINT COLOR DOESN'T MATTER
However, in 2009, a U.S. Fire Administration study looked at how to reduce morbidity and mortality of first responders operating on U.S. roadways. While the study mentions Solomon's research and the validity of lime-yellow being an easy color for the human eye to discern, USFA researchers concluded that the paint color was not important.
Rather, they suggested it was more important that drivers recognize what the vehicle is for. For example, if a town's community does not associate lime-yellow with fire trucks, then the color may not be as visible as predicted.
The study also concluded that retroreflective striping significantly increases an apparatus' nighttime visibility. The NFPA released a voluntary national standard in 2009 for apparatus that required retroreflective striping.
Regardless of any study's findings, one thing is for certain: there won't be a mandatory country–wide apparatus color change coming any time soon.
Traditional red fire trucks will continue to drive and respond to emergency calls. But if you see lime-yellow, fluorescent green and orange rigs en route to a scene, stop for a second and wonder why. Maybe you'll be the next researcher or scholar to dig into how we can keep our communities and crews safer.
RCL Industrial Safety Centre Ltd is a leading manufacturer and supplier of fire trucks and vehicles in Nigeria and West Africa sub region. All fire vehicles supplied by our company have been constructed to the highest standards and will enable you to respond quickly to fires regardless of your environment. Our fire fighting trucks and vehicles are suitable for combating fires in airports, domestic and commercial buildings and more.
FIRE FIGHTING TRUCKS ASSEMBLED IN NIGERIA
Vehicles on Custom Built Chassis
Municipal Firefighting Vehicles
Industrial Firefighting Vehicles
Rescue and Rapid Intervention Vehicles
Our products are guaranteed with local support, maintenance and trainings.
For enquiries contact us
Tel: +234 9057666623, 08098600070
D/Line: +234 803 703 6363
Email: sales@safetycentre.ng