Training employees in the safe preparation, cooking and handling of food is a legal requirement for food serving, preparation and manufacturing businesses and organizations. This guide outlines why it's essential to understand food safety hazards and how food safety training can support your organization.
Why is Food Safety Training Important?
Food business operators are required by law to ensure their employees receive the appropriate instruction in food handling, and whoever is responsible for maintaining business food safety measures must have had the correct kind of training.  This means that senior members of staff – including middle and upper management, food hygiene trainers and head chefs – should undertake the correct safety training to ensure they relay the right training onto all their staff who handle food. 
Prevent cross-contamination from food safety hazards : If food is mishandled, bacteria and allergens can pass from one surface to another. Incidents of cross-contamination occur when food handlers do things such as using a chopping board to prepare raw meat and then use the same board to prepare vegetables or store raw meat in a way that allows juices to drip onto other food.
Cross-contamination can lead to food poisoning and people suffering from illnesses such as campylobacter, norovirus and salmonella. Allergens can pass between food which could be harmful to people allergic to allergens such as gluten or nuts. Food safety training teaches employees how to understand food safety hazards, avoid cross-contamination and how to manage allergens.
2. Protect vulnerable people: Everyone is at risk from food poisoning, but some people are more likely to suffer a serious illness if they eat contaminated food. They include:
Adults aged 65 and above.
Children younger than five years old.
People with weakened immune systems.
Pregnant women.
Food safety training will highlight employees' need to protect everyone from food poisoning, but particularly the most vulnerable groups.
3. Improve business efficiencies: Employees trained in food safety can be more efficient. Teaching them how to avoid food safety hazards and handle and store food hygienically will ensure mistakes aren't made, processes flow well, and customers are provided with a high level of service.
4. Reduce food waste: Poor food hygiene can lead to food going to waste. Training means employees will understand how to manage tasks such as achieving and then maintaining the correct temperatures for foods, understanding 'best before' and 'use by' dates and the proper storage procedures to use. This reduces the chances of food being thrown away, cutting waste and saving your business money.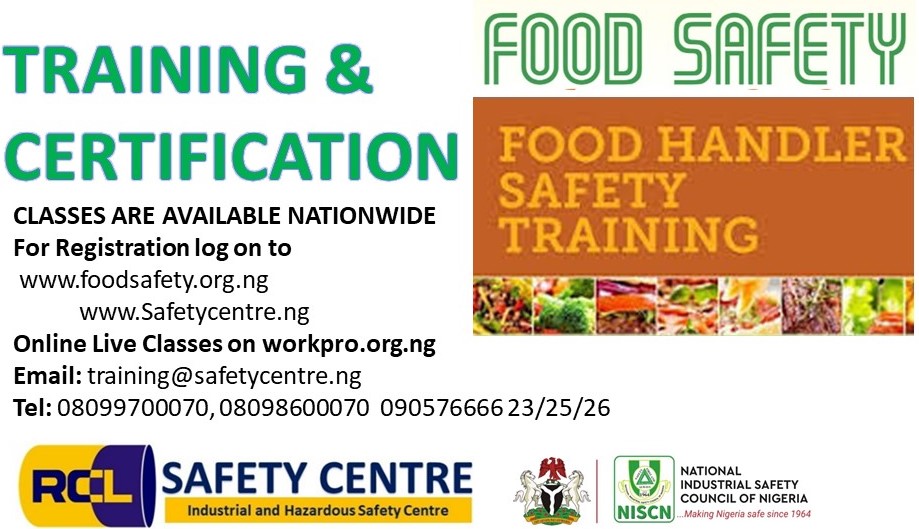 5. Protecting your organizational reputation: In the modern world of social media reviews, managing your organizational reputation is more important than ever. Bad reviews due to poor hygiene can be hugely damaging. The National Agency for Food & Drug Administration & Control (NAFDAC) rate businesses on food hygiene in Nigeria. The ratings are public information, so a poor score could put customers off from doing business with you.
Training your employees will ensure high standards are maintained and customers know that your food is safe.
6. Promoting a more positive workplace: Employee training is one of the ways employers can create a positive working environment. Training through a food safety course emphasizes the importance of good practices and why food safety is essential. It ensures employees feel confident in their ability to do the job and prevents any bad feeling among teams.
7. Avoid closure, prosecution and fines: Organizations with poor food hygiene practices and allergen controls risk breaching food safety regulations. During an inspection by food safety authorities, an organization can be shut down if it is considered a high safety risk. The organization can face unlimited fines, while owners and managers may face prison sentences for gross breach of reasonable care.
In 2016, the Guardian reported that more than 100 companies were successfully prosecuted "with sentences including prison, suspended sentences, community service and fines of tens of thousands of pounds". Trained employees mean employers can feel more confident that food safety rules are being complied with and that their food safety management system is functioning.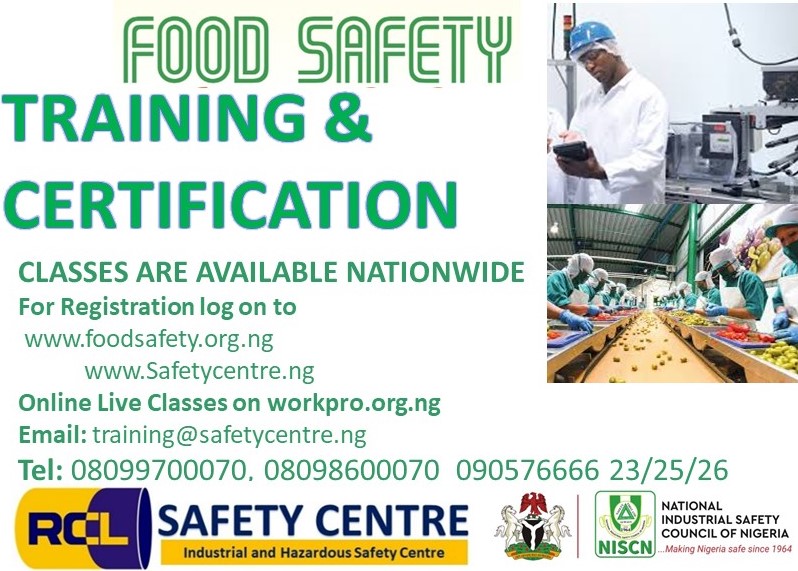 There are three recognised levels of food safety training:
Level one – General training for the safe preparation, serving and delivery of low risk and wrapped food. Relevant to waiting staff and food delivery staff.
Level two – Training for people who prepare and serve food directly to consumers. Relevant to chefs, kitchen assistants and bar staff who prepare food and serve drinks.
Level three – Training food supervisors and managers in a business preparing and serving food directly to consumers. Relevant to head chefs, general managers and owners of mobile catering businesses.
The specific content of a training course is dependent on the level, but in general, it should cover safe practices in the preparation, cooking and handling of food.
You can get more training from RCL Safety Centre thru https: www.safetycentre.ng/training_register
At RCL Safety Centre this training is also available in different Nigerian languages like PIDGIN,YORUBA,HAUSA AND IGBO
Our company (RCL Safety Centre) is an indigenous company dedicated to Health, Safety and Environment Training and Services.
We are technical partners of the National Industrial Safety Council of Nigeria (NISCN) as well as approved training partners of most major International Occupational Safety and Health organizations like NEBOSH, and corporate members of ISPON (Institute of Safety Professionals of Nigeria) with thousands of personnel trained in various areas till date.
For more information visit our website: www.safetycentre.ng
Email: sale@safetycentre.ng or mma@safetycentre.ng
Contact us on: 08099700070, 09057666623 or 08164363532