What are chemical hazards and toxic substances?
Chemical hazards and toxic substances pose a wide range of health hazards (such as irritation, sensitization, and carcinogenicity) and physical hazards (such as flammability, corrosion, and explosibility).
In order to ensure chemical safety in the workplace, information about the identities and hazards of the chemicals must be available and understandable to workers. OSHA's Hazard Communication Standard (HCS) requires the development and dissemination of such information:
Chemical manufacturers and importers are required to evaluate the hazards of the chemicals they produce or import, and prepare labels and safety data sheets to convey the hazard information to their downstream customers;
All employers with hazardous chemicals in their workplaces must have labels and safety data sheets for their exposed workers, and train them to handle the chemicals appropriately. The training for employees must also include information on the hazards of the chemicals in their work area and the measures to be used to protect themselves.
Employers are required to identify and evaluate the respiratory hazard(s) in their workplaces. Various types of Occupational Exposure Limits (OELs) have been established by a number of organizations, and are listed on many of OSHA's Safety and Health webpages on chemical hazards and toxic substances. Here is an explanation of some of the different levels.
OSHA Permissible Exposure Limits (PELs).
OSHA sets enforceable permissible exposure limits (PELs) to protect workers against the health effects of exposure to hazardous substances, including limits on the airborne concentrations of hazardous chemicals in the air. Most OSHA PELs are 8-hour time-weighted averages (TWA), although there are also Ceiling and Peak limits, and many chemicals include a skin designation to warn against skin contact. Approximately 500 PELs have been established.
What are some common terms are used when discussing chemical hazards or toxic substances?
Action level : An airborne level, typically one-half of the PEL designated in OSHA's substance-specific standards, 29 CFR 1910, Subpart Z , calculated as an eight (8)-hour time-weighted average, which initiates certain required activities such as exposure monitoring and medical surveillance.
Ceiling Limit : The exposure limit a worker's exposure may never exceed.
Sampling and Analytical Error : A statistical estimate of the uncertainty associated with a given exposure measurement.
Short-Term Exposure Limit (STEL) : The average exposure to a contaminant to which a worker may be exposed during a short time period (typically 15 – 30 minutes).
Time-Weighted Average (TWA) : The average exposure to a contaminant over a given period of time, typically 8-hours. For examples of how a TWA is calculated.
How do I control chemical hazards and toxic substances?
It is OSHA's long standing policy that engineering and work practice controls must be the primary means to reduce employee exposure to toxic chemicals, where feasible. Respiratory protection is required to be used if engineering or work practice controls are infeasible or while engineering controls are being implemented.
What are the requirements for respirator use?
When effective engineering controls are not feasible, or while they are being instituted, appropriate respirators shall be used. Employers must provide appropriate respiratory protection at no cost to workers, provide appropriate training and education regarding its use, and ensure that workers use it properly.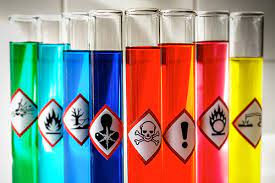 General Considerations for Chemical Storage Locations
Avoid storing materials on top of cabinets. Clearance from the ceiling must be 18 inches for sprinklered labs and 24 inches for not sprinklered.
Chemicals should be readily accessible and to reduce accidents, materials should not be stored on shelves higher than 5 feet (~1.5m).
Ensure container weight does not exceed the load rating of the shelves. Heavier items and larger containers should be stored on lower shelves.
Wall mounted shelving is not recommended for chemical storage.
Corrosive liquids and Particularly Hazardous Substances (PHS) shall be stored below eye level.
Do not store chemicals in fume hoods.
Provide adequate storage space for chemicals within your lab.
Keep chemicals away from sources of heat or direct sunlight.
Use secondary containment when possible.
Use properly rated and labeled refrigerators and freezers when storing flammable materials.
You can get more training from RCL Safety Centre thru https: www.safetycentre.ng/training_register
At RCL Safety Centre this training is also available in different Nigerian languages like PIDGIN,YORUBA,HAUSA AND IGBO
Our company (RCL Safety Centre) is an indigenous company dedicated to Health, Safety and Environment Training and Services.
We are technical partners of the National Industrial Safety Council of Nigeria (NISCN) as well as approved training partners of most major International Occupational Safety and Health organizations like NEBOSH, and corporate members of ISPON (Institute of Safety Professionals of Nigeria) with thousands of personnel trained in various areas till date.
For more information visit our website: www.safetycentre.ng
Email: sale@safetycentre.ng or mma@safetycentre.ng
Contact us on: 08099700070, 09057666623 or 08164363532