A late night inferno has razed the Samsung office located at the popular Banex Plaza of the Federal Capital Territory (FCT), Abuja.
New source gathered that it took a combined team of different fire services to put out the fire.
The cause of the fire, which was said to have been noticed around 8 p.m., is not known yet.
Eyewitnesses said heavy smoke and fire simultaneously engulfed the building, where different kinds of electronic appliances were sold.
It was also gathered that the fire extended to a filling station located near the building.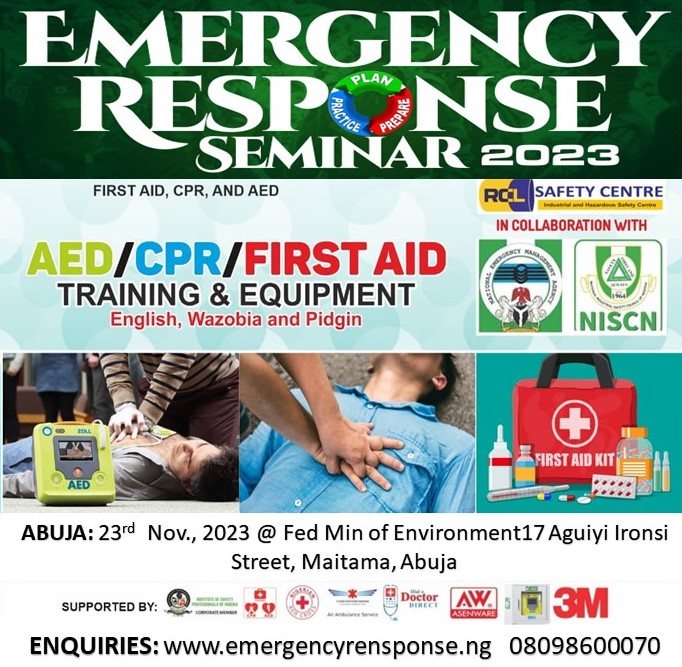 In this present day, with increasing fire out-breaks, crime rates, bomb threats, natural disasters as well as other vices, it has become unavoidable for occupants High Rise Buildings and locations with high occupancy like markets, bus parks, stadiums, schools etc., to understand a well thought through processes of saving lives in times of these disasters following a well detailed response/evacuation procedures and techniques. The critical issue remains that these incidents happen unannounced, with very little reaction time.
o             This also follows a successful EMERGENCY RESPONSE SEMINAR 2021/22
It has also become necessary for organizations to learn the implementation of CPR (CARDIOPULMONARY RESUSCITATION) AED (AUTOMATED EXTERNAL DEFIBRILLATOR) & FIRST AID TRAINING/SEMINAR & CERTIFICATION PROGRAM to occupants of vulnerable locations like IDP Camps, Markets, Hotels and other high occupant building(s) etc., through a well-organized seminar. This will be held in collaboration with NISCN and other relevant agencies, OEM's and safety and health practitioners.
www.safetycentre.ng