Canned aerosols use propellants to get the contents out of the can. This propellant can be flammable. The Safety Data Sheet outlines factors regarding flammability under sections: (2) Hazards Identification — where the flammable pictogram will be viewable and a description given; and (9) Physical and Chemical Properties — providing details on flashpoint and flammability range.
The flammability range provides a lower explosion limit (LEL) and an upper explosion limit (UEL) that define the concentration level in the atmosphere at which the product can be a fire or explosion hazard. If the concentration is too rich (or above the UEL), the product will not ignite. If the product concentration in the air is below the LEL, the product will not ignite. Although it may be difficult to determine the exact concentration in the atmosphere during application, it is correct to say the broader the range is between the LEL and UEL, the greater the chance of an ignition.
The product label also will provide direction on flammability under the Physical and Chemical Hazards section. Action statements are given to further explain what the applicator can do to increase safety.
A thorough inspection prior to beginning your application should include looking for the precautions noted on the specific product label and SDS you are considering using.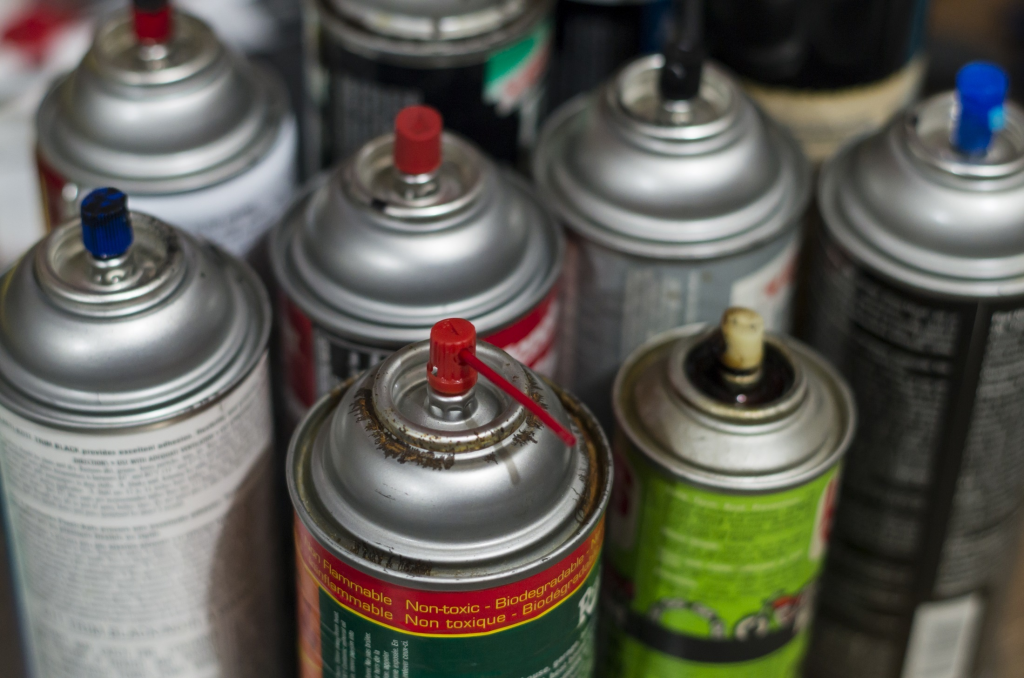 It is important to remember:
Aerosols must be kept well away from heat, sunshine, window sills, heaters, ovens, barbeques and any ignition source (e.g. candles or pilot lights).
Store all aerosols out of reach of children and pets.
Never keep aerosols in cars – including the glovebox – because temperatures can rise quickly even on cool or overcast days.
Do not pierce or burn aerosols, even when empty, as they may explode and seriously injure you and others.
Do not spray on or near a naked flame, fire or source of ignition.
Use only in a well ventilated space.
Do not smoke when using an aerosol or immediately afterwards.
Avoid breathing in the product as you spray – ensure that use only in a well-ventilated area, especially if you or others in your household/workplace have asthma or suffer allergies to sprays or fragrances that can trigger asthma attacks.
Store in a cool, dry area. Damp conditions should be avoided to prevent corrosion of the can.
Do not allow aerosols to freeze in cold weather. 
NEVER deliberately inhale aerosols. Even doing this just once can kill you and repeated abuse can cause severe and irreversible damage to your heart, lungs, nervous system and other organs.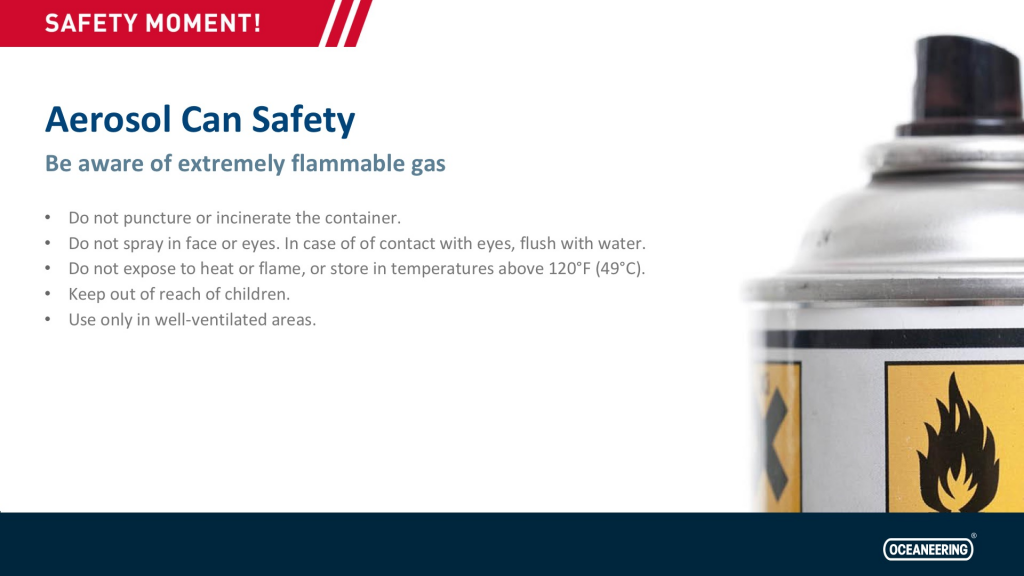 7 TIPS. Some tips for pest management professionals using canned aerosol products safely are:
Read the Label and SDS to understand the actions you need to take to prevent unsafe applications.
Do a thorough inspection to determine any hazards that will negatively affect your application.
Do not over apply product. If you apply more product than advised per label, you can create a build-up of vapors that can ignite.
Store product in a well-ventilated area, and keep it well secured to prevent potential puncturing of the can.
Turn off all ignition sources like pilot lights. Open flames should be extinguished to prevent a flammable situation. Remember that static electricity is enough to cause a spark as well. (The Environmental Protection Agency recommends at least six feet from ignition sources for foggers.)
Check surface area temperatures to ensure that they are below the flashpoint temperature range as listed on the SDS Section 9.
Keep in mind that vapor drift can be a concern as treatment area temperatures increase. This can cause product to drift from one area to another where a pilot light may be burning, etc., thus creating a potential fire.
You can get more training from RCL Safety Centre thru https: www.safetycentre.ng/training_register
At RCL Safety Centre this training is also available in different Nigerian languages like PIDGIN,YORUBA,HAUSA AND IGBO
Our company (RCL Safety Centre) is an indigenous company dedicated to Health, Safety and Environment Training and Services.
We are technical partners of the National Industrial Safety Council of Nigeria (NISCN) as well as approved training partners of most major International Occupational Safety and Health organizations like NEBOSH, and corporate members of ISPON (Institute of Safety Professionals of Nigeria) with thousands of personnel trained in various areas till date.
For more information visit our website: www.safetycentre.ng
Email: sale@safetycentre.ng or mma@safetycentre.ng
Contact us on: 08099700070, 09057666623 or 08164363532