Manual Handling Injury Prevention Safety Talk
There are many injuries on the job caused by individuals moving objects by hand. The Bureau of Labor Statistics reported that strains and sprains are the most prevalent type of injury on the job. While these types of injuries can be hard to prevent, it is possible through taking the right steps and not taking unnecessary risks when completing lifts.
Types of Injuries Sustained While Completing Lifts
Strains
Sprains
Repetitive motion injuries
Pinch point injuries
Struck-by injuries
Slips, trips, falls
Manual handling – identifying workplace hazards : Some factors in the workplace may increase the risk of an injury occurring. These hazards can be identified in different ways:
Walk through the workplace and look for potential hazards.
Talk over risk factors with workers.
Check through injury records to help pinpoint recurring problems.
Regularly monitor and update risk identification.
A detailed process, including requirements for identifying hazardous manual handling and implementing risk controls, is available from RCL Safety Centre.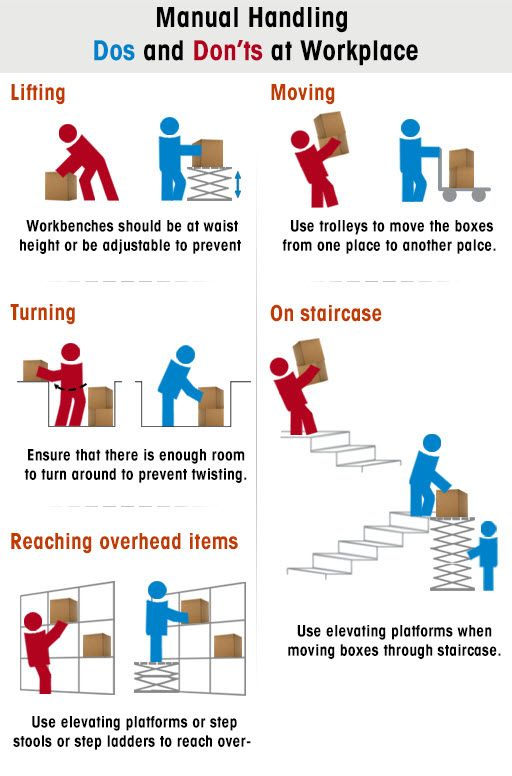 Manual handling – assessing the risks
The next step is to assess which factors are contributing to the risk of injury.
Typical risk factors that can increase the risk of injury include:
type of work – working in a fixed posture for a prolonged period of time
layout of the workspace – a cramped or poorly designed workspace can force people to assume awkward postures, such as bending or twisting
weight of an object – a heavy load may be difficult to lift and carry
location of an object – heavy objects that have to be lifted awkwardly, for example above shoulder height or from below knee level
duration and frequency – increasing the number of times an object is handled or the length of time for which it is handled
condition of an object – more effort may be required to manipulate badly designed or poorly maintained equipment
awkward loads – loads that are difficult to grasp, slippery or an awkward shape
handling a live person or animal – lifting or restraining a person or animal can cause sprains and other injuries.
Reducing or eliminating manual handling risks : After identifying workplace hazards you can do several things to control the risk of manual handling injuries. These tips can help reduce injury at home as well as at work.

Safety suggestions include:
Change the task – ask 'Does this task need to be carried out? If so, does it have to be done this way?'
Change the object – for example, repack a heavy load into smaller parcels
Change the workspace – for example, use ergonomic furniture and make sure work benches are at optimum heights to limit bending or stretching
Change the environmental conditions – including heat, cold and vibration
Use mechanical aids – such as wheelbarrows, conveyor belts, cranes or forklifts
Change the nature of the work – for example, offer frequent breaks or the chance to do different tasks
Offer proper training – inexperienced workers are more likely to be injured.
Manual handling – protecting your back
The back is particularly vulnerable to manual handling injuries. Safety suggestions include controlling risk factors in the workplace, in addition to personal controls:
Lift and carry heavy loads correctly by keeping the load close to the body and lifting with the thigh muscles.
Never attempt to lift or carry loads if you think they are too heavy.
Pushing a load (using your body weight to assist) will be less stressful on your body than pulling a load.
Use mechanical aids or get help to lift or carry a heavy load whenever possible.
Organize the work area to reduce the amount of bending, twisting and stretching required.
Take frequent breaks.
Cool down after heavy work with gentle, sustained stretches.
Improve your fitness – exercise regularly to strengthen muscles and ligaments, and reduce excess body fat.
Warm up cold muscles with gentle stretches before engaging in any manual work.
You can get more training from RCL Safety Centre thru https: www.safetycentre.ng/training_register
At RCL Safety Centre this training is also available in different Nigerian languages like PIDGIN,YORUBA,HAUSA AND IGBO
Our company (RCL Safety Centre) is an indigenous company dedicated to Health, Safety and Environment Training and Services.
We are technical partners of the National Industrial Safety Council of Nigeria (NISCN) as well as approved training partners of most major International Occupational Safety and Health organizations like NEBOSH, and corporate members of ISPON (Institute of Safety Professionals of Nigeria) with thousands of personnel trained in various areas till date.
For more information visit our website: www.safetycentre.ng
Email: sale@safetycentre.ng or mma@safetycentre.ng
Contact us on: 08099700070, 09057666623 or 08164363532