Workers may be required to work outdoors in cold environments and for extended periods, for example, snow cleanup crews, sanitation workers, police officers and emergency response and recovery personnel, like firefighters, and emergency medical technicians. Cold stress can be encountered in these types of work environments.
Cold Stress Safety Tips for Workers
There are many steps employers can take to protect workers from cold stress.
Employers should:
Schedule maintenance and repair jobs for warmer months. When this is not possible, these jobs should be scheduled for the warmer part of the day.
Reduce the physical demands of workers by using relief workers or assigning extra workers for long, demanding jobs.
Provide warm break areas and warm liquids. Monitoring workers who are at risk of cold stress and providing training can also help prevent cold stress illness and injuries.
Workers should follow these recommendations to protect themselves from cold stress:
Wear appropriate clothing.

Wear several layers of loose clothing. Layering provides better insulation.
Tight clothing reduces blood circulation. Warm blood needs to be circulated to the extremities.
When choosing clothing, be aware that some clothing may restrict movement resulting in a hazardous situation.

Make sure to protect the ears, face, hands and feet in extremely cold weather.

Boots should be waterproof and insulated.
Wear a hat; it will keep your whole body warmer. (Hats reduce the amount of body heat that escapes from your head.)

Move into warm locations during work breaks; limit the amount of time outside on extremely cold days.
Carry cold weather gear, such as extra socks, gloves, hats, jacket, blankets, a change of clothes and a thermos of hot liquid.
Include a thermometer and chemical hot packs in your first aid kit.
Avoid touching cold metal surfaces with bare skin.
Monitor your physical condition and that of your coworkers.
What are the risk factors that contribute to cold stress?
Some of the risk factors that contribute to cold stress are:
Wetness/dampness, dressing improperly, and exhaustion;
Predisposing health conditions such as hypertension, hypothyroidism, and diabetes;
Poor physical conditioning.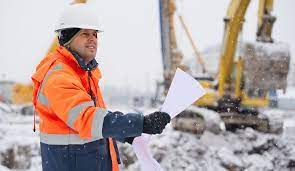 How does the body react to cold conditions?
In a cold environment, most of the body's energy is used to keep the internal core temperature warm. Over time, the body will begin to shift blood flow from the extremities (hands, feet, arms, and legs) and outer skin to the core (chest and abdomen). This shift allows the exposed skin and the extremities to cool rapidly and increases the risk of frostbite and hypothermia. Combine this scenario with exposure to a wet environment, and trench foot may also be a problem.
What are the most common cold induced illnesses/injuries?
Hypothermia
Frostbite
Trench Foot
Responsibilities to Avoid Cold Stress
Although OSHA does not have a specific standard that covers working in cold environments, employers have a responsibility to provide workers with employment and a place of employment which are free from recognized hazards, including cold stress, which are causing or are likely to cause death or serious physical harm to them (Section 5(a)(1) of the Occupational Safety and Health Act of 1970).
Employers should train workers on how to prevent and recognize cold stress illnesses and injuries and how to apply first aid treatment. Workers should be trained on the appropriate engineering controls, personal protective equipment and work practices to reduce the risk of cold stress.
Employers should provide engineering controls. For example, radiant heaters may be used to warm workers in outdoor security stations. If possible, shield work areas from drafts or wind to reduce wind chill.
Employers should use safe work practices. For example, it is easy to become dehydrated in cold weather. Employers therefore, can provide plenty of warm sweetened liquids to workers. Avoid alcoholic drinks. If possible, employers can schedule heavy work during the warmer part of the day. Employers can assign workers to tasks in pairs (buddy system), so that they can monitor each other for signs of cold stress. Workers can be allowed to interrupt their work, if they are extremely uncomfortable. Employers should give workers frequent breaks in warm areas.
Acclimatize new workers and those returning after time away from work, by gradually increasing their workload, and allowing more frequent breaks in warm areas, as they build up a tolerance for working in the cold environment. Safety measures, such as these, should be incorporated into the relevant health and safety plan for the workplace.
Dressing properly is extremely important to preventing cold stress. The type of fabric worn also makes a difference. Cotton loses its insulation value when it becomes wet. Wool, silk and most synthetics, on the other hand, retain their insulation even when wet. The following are recommendations for working in cold environments:
Wear at least three layers of loose fitting clothing. Layering provides better insulation. Do not wear tight fitting clothing.

An inner layer of wool, silk or synthetic to keep moisture away from the body.
A middle layer of wool or synthetic to provide insulation even when wet.
An outer wind and rain protection layer that allows some ventilation to prevent overheating.

Wear a hat or hood to help keep your whole body warmer. Hats reduce the amount of body heat that escapes from your head.
Use a knit mask to cover the face and mouth (if needed).
Use insulated gloves to protect the hands (water resistant if necessary).
Wear insulated and waterproof boots (or other footwear).
You can get more training from RCL Safety Centre thru https: www.safetycentre.ng/training_register
At RCL Safety Centre this training is also available in different Nigerian languages like PIDGIN,YORUBA,HAUSA AND IGBO
Our company (RCL Safety Centre) is an indigenous company dedicated to Health, Safety and Environment Training and Services.
We are technical partners of the National Industrial Safety Council of Nigeria (NISCN) as well as approved training partners of most major International Occupational Safety and Health organizations like NEBOSH, and corporate members of ISPON (Institute of Safety Professionals of Nigeria) with thousands of personnel trained in various areas till date.
For more information visit our website: www.safetycentre.ng
Email: sale@safetycentre.ng or mma@safetycentre.ng
Contact us on: 08099700070, 09057666623 or 08164363532