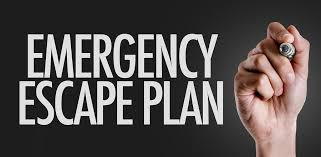 The need for an emergency evacuation can occur at any time. There are numerous types of events that can instigate an evacuation, some include weather related events such as hurricanes, floods, and fires, or human caused emergency situations involving civil disturbances, chemical spills, and explosions. Unplanned events like these do not allow time for employees to make mistakes, which is why
An emergency evacuation plan aims to prepare employees with information that enables them to evacuate a building as quickly and safely as possible. These plans must cover all relevant scenarios of possible emergencies for employees to be sufficiently prepared. Emergency situations can include anything from natural disasters, industrial accidents, transportation accidents, military attacks, structural failure, or fires.
Each and every business will have a different evacuation plan due to the various hazards that may present themselves in specific work environments. If there are more than ten employees within a business, OSHA requires the evacuation plan to be in written form. The plan should include everything from alarm system specifications to emergency evacuation routes, and required employee training, as some examples.
Emergency Drills
Emergency evacuation plans are always strengthened with the use of emergency evacuation drills. It is recommended that emergency drills, such as fire drills, be repeated every three months to keep employees up to date on proper emergency plan procedures. If the risk of an emergency occurring is low, then every six months should be sufficient enough for practice.
The reason why emergency drills are essential to an evacuation plan is because they provide real time training opportunities for employees. Employers are able to take a look at what needs to be improved within the plan to make the evacuation process go smoother. This can be done by either planning and alerting employees of an upcoming drill to practice something new, or to surprise employees to observe their reaction when they believe that the situation is real. Both offer great opportunities for continuous improvement regarding an evacuation plan.
Overall, evacuation plans exist to provide some amount of preparation in the event of an emergency. Without this plan, evacuations can be disorderly and ultimately result in more injuries and even death.
Employer Responsibilities
Having an evacuation plan in place from the beginning is the best kind of preparation one can have for these sudden and disastrous events.
Having an evacuation plan will not only provide employees with the best possible tools for getting out of the building safely, but they will also be able to do it in a calm manner. Being calm in these situations is especially important because it will help prevent disorganization and panic. All of that is only achievable if everything that is needed for an evacuation plan is within reach of employees. This means the employer must provide things such as:
Designated evacuation wardens and team leaders to make sure everyone is safely out of the building
Practice drills to prepare for the real event
An established emergency evacuation route and assembly area
Applicable training for employees whether that be shutting down equipment, first aid, or knowing how to use emergency equipment such as fire extinguishers.
Evacuation maps
Visual communication such as signs, labels, and floor tape to mark pathways and emergency equipment in the event of an evacuation
These are all good things to have for preparing employees for these instances. Aside from the goal of keeping employees safe, it is a good idea to have an emergency evacuation plan because OSHA has the power to cite businesses that do not have one in place. Emergency evacuation plans are required by law and function as a safeguard against preventable accidents of which can end up costing the company even more money in legal fees.
Regardless of whether or not an employer decides to create an evacuation plan, they must remember that it saves them money in the long run, and more importantly, saves the lives of their employees in the event an emergency evacuation must take place.
Knowing a building's unique emergency evacuation process is essential to be prepared for an emergency situation. Emergency conditions have the ability to strike anytime and are either caused by internal threats within the building or external threats stemming from events outside of the employees' control. For that reason, being prepared for an emergency at all times is imperative for employees to get out safely without acquiring serious injuries.
Emergency Evacuations: Step-by-Step
The first step in an emergency evacuation process is safely stopping work. Employees must shut down equipment that might pose a hazard during an emergency situation. Once shutting off machinery, the employee is encouraged to quickly gather their personal belongings such as medication, glasses, and car keys, if they can safely do so.
Safe means of egress comes next. Employees must leave the building through the nearest exit. However, it is recommended that elevators are not to be used during an evacuation process as there is the possibility of becoming trapped on the way down. Doors must also remain unlocked for all occupants to get out safely. Throughout this time, assisting anyone such as disabled people or children will help with getting everyone out in a timely manner.
The third step involves reporting your presence at the designated assembly area. Accounting for all those who were in the building is imperative for emergency responders because they need to know if search and rescue protocols are necessary. When in this area, it is a good time to notify emergency responders of any missing persons that are known as well as equipment that may have become unstable in the present conditions.
Lastly, wait for instructions from the emergency responders while there. No one can reenter the building until they are told it is safe to do so by either police or fire department members. For that reason, employees and others must remain in the designated assembly area until further notice.
These four main steps are greatly improved with the help of employees knowing their emergency route before an emergency situation arises. Without that knowledge, there will more than likely be an increase in injuries as well as potential casualties. A proper emergency action plan, or EAP, requires training for employees to be compliant with OSHA's regulation 29 CFR 1910.38, and going over emergency evacuation routes are indeed on that list of requirements.
At the bare minimum, there are six main components that must be in an evacuation plan according to OSHA. With these, the employer will be able to better prepare employees for emergency situations that may arise in the workplace, they are:
A way of reporting emergencies
Evacuation procedures and emergency escape route assignments
Procedures for shutting down critical plant operation before departing
Accounting for all employees in the assembly area
Rescue and medical training for appointed employees
Emergency contact information
Making a Comprehensive Evacuation Plan
Evacuation plans can be difficult to create due to the sheer number of emergency situations possible. To help with this challenge, the following elements can be considered to further design and define conditions and circumstances that lead to effective emergency evacuation:
The conditions that require an evacuation must be considered as sometimes emergencies can be quickly resolved without the help of emergency personnel.
Conditions that require a shelter-in-place order must be defined as not all emergency situations require evacuation. For example, no one should go outside when a tornado is down the street or if there is an active shooter close by.
A clear chain of command in these emergency situations will help with organization and overall attitude during these events.
Complete a risk assessment before any emergency planning takes place. This is where all the information about potential hazards are gathered, then either mitigated or eliminated. Once that has been done, if any hazard remains, it should be listed within the emergency evacuation plan with its own specific protocols for getting away safely.
By remembering these core elements, the employer has the chance to build a robust emergency response plan that will ensure employees have the right resources to succeed in performing the necessary steps during an evacuation.
You can get to register on any safety training from RCL Industrial Safety Centre thru https: www.safetycentre.ng/training_register
At RCL Industrial Safety Centre this training is also available in different Nigerian languages like PIDGIN,YORUBA,HAUSA AND IGBO
Our company (RCL Industrial Safety Centre) is an indigenous company dedicated to Health, Safety and Environment Training and Services.
We are technical partners of the National Industrial Safety Council of Nigeria (NISCN) as well as approved training partners of most major International Occupational Safety and Health organizations like NEBOSH, and corporate members of ISPON (Institute of Safety Professionals of Nigeria) with thousands of personnel trained in various areas till date.
For more information visit our website: www.safetycentre.ng
Email: sale@safetycentre.ng or mma@safetycentre.ng
Contact us on: +234 8098600070, 08099700070, 09057666623/25/26